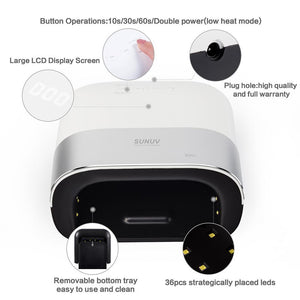 GENUINE SUN 3! DON'T BE FOOLED BY FAKE COPIES......

CURE ALL KINDS OF GEL NAIL POLISH: All light beads adopt advanced technology-- dual optical wavelength (365nm+405nm), makes it works with ALL kinds of UV and LED gel nail polish,e.g.Base Coat, Top Coat, Color Gel, Hard Gels, Builder, acrylic, sculpture gel, gem glue etc.. No brand requirements though. No need to worry about replace the beads.

IDEAL FOR HOME AND SALON USE: SUN3 nail dryer's 36 pieces durable 50000hrs lifetime LED beads are evenly distributed inside. It would helps to uniformly cure gel nail polish. Fashion appearance and wide enough zone make it easier to cure 5 fingernails or toenails at the same time.

CURE 2X FATSTER: Double Power button offers cure speeds up to twice as fast as standard UV LED nail lamp—a full cure takes just 30% of traditional nail lamp.

SMART PAINLESS BUILDER/HARD GEL CURING: unique 99s LOW HEAT MODE is more suitable for curing builders, hard gels. The power enhances gradually during this mode to protect your tender skin from pain when curing gels. Comparing to the traditional purple light nail lamp, this soft closer white lights does no harm to the eyes. Let's enjoy the comfortable nail art!

SMART SENSOR AND TIME MEMORY FUNCTION: SUN3 has a smart sensor. When you slide your hand/foot in, it comes on automatically for 120 seconds; or you can stop curing at any time by sliding the hand/foot out. Its 10/30/60/99 seconds timer let you control the curing time with each layer. It would work corresponding time if you use time memory function without pressing any buttons.