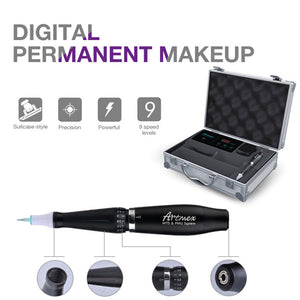 Permanent makeup is a cosmetic technique which employs tattoos (permanent makeup) as a means of producing designs that resemble makeup, such as eye lining and other permanent enhancing colors to the skin of the face, lips, and eyelids. It is also used to restore or enhance the breast's areola, such as after breast surgery.
Specification: 
Model Number:  V3
Speed Level: 9 speed levels
Applicative Needle: 1/3/5/7/9/12/36/42/Nano Needles
Net Weight:1275g
Features: 
-Standard motor for micropigmentation,powerful and strong;
-Specially tailored needles for P.M.U, steady movement with no shaking;
-Suitcase-style device, convenient carrying;
-9 levels of digital speed controller.
Product Features: 
Power: connected bycable between the host and handpiece;
Comfort: The skeuomorphic design endows the pen with conforable grip and excellent antiskid property;
Safety: Multi gears of screw-in connector the needle cartridge is connected with the pen stably.