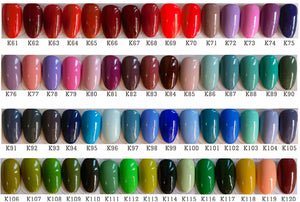 Natural and Healthy:Kara gel polish is 7 Toxin Free Ingredient makes it healthy for skin and has low smell.No harsh ingredients or adhesives that lead to damaged nails.

Soak Off Gel Nail Polish:The gel nail polish kit need to be cured under UV/LED light.Base and Top coat required.Average for LED light 30-60 secs.Please read the Products Description for more details.

Ideal Gift For Her:The Orna Beauty gel nail polish are brilliant gifts for a family member or friend for birthdays,anniversaries,Valentine¡¯s Day,Mother¡¯s Day or other holidays.This is a fantastic, beautiful, unique gift set that will be loved by who receive it.

Long Lasting:UV/LED gel nail polish lasts up to 21 days with proper use.With ultimate shine and with no wrinkles and not lumpy.Apply gel polish with small strokes and thin layers will help to keep it last longer.