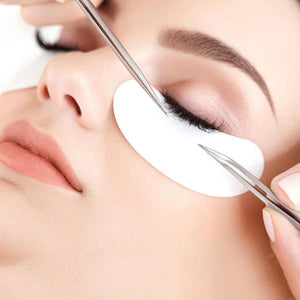 These Eye Pads gives client a comfortable eye treatment during the eyelash extension application process. Really easy to use, very cool, no lint and they stick great to face!

FUNCTION: These Eye Pads can be used for Eyelash Extension Application, Facials, Eyelash Perming, Eyelash Tinting or just use it to reduce dark circle, eye puffiness

MOISTURE COMFORT: Stick down good and hold all the lower lashes down for lash extension procedures and they do not lift up or move and they do not ooze into your eyes. Makes your skin feel cool and refreshed.

SANITATION: Each pair is individually wrapped in foil packaging. Completely sealed aseptically packed, Great for lash extensions, lash tinting, and lash removing!.

Eye Gel pads patches for professional lash technicians, perfect for eyelash treatments, 100% Brand New with Good Quality.