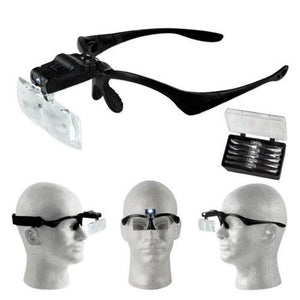 Easily used for reading books and newspapers,handicrafts, jewelry work, watch repair, arts & crafts or as general reading aid.

This led magnifier is attached with five elongated lens that can change magnification.External specification of new lens:85mmX8.5mm.Five kinds of multiples:1.0X,1.5X,2.0X,2.5X,3.5X.

Open LED lighting source in poor light.

Head Mount Magnifier advisable to adjust lens angle and LED light irradiation angle to ensure that light source can irradiate the surface of viewed object accurately and make it more convenient use.

Common bracket-type magnifiers can easily fall off during use because lens and LED part are quite heavy.This produce can solve this problem completely.If you need to wear this magnifier for long time,it is advised to change bracket into headband state,which can make work comfortable.